In memory if Hanoians, the cyclo image is not only a beautiful picture, it is also put into the literature, poetry, painting and music…. It becomes a glamor culture in the capital city. This is the reason why almost foreigners who have ever visited Hanoi, try one time to take this kind of vehicle.
The image cyclo with the male driver rolling slowly on the streets becomes a familiar image in Hanoi nowadays.
Formerly, pedicab rickshaw used to be a man cart which were bought and used a lot by the French High ranking Officers. At that time, the man-cart was a symbol of the wealth in Hanoi therefore the rich families had one. The French High ranking Officers were sitting on the man-cart with one more young boy running beside and doing all things they needed. After the first World War, the bikes were imported into Vietnam. The man-cart was improved into a pedical rickshaw and it became cyclo as present.
The Cyclo was made the first in 1939 by a Frenchman named Coupeaud who was indulged in sport very much. After getting the consultation of two Tour de France champions as Georges Speicher and Le Greves, he had to campaigne the Ministry of the Public Works and given license after that. But cyclo was not popular in France but it was authorized to public in Phnom Penh, Cambodia. From here, Coupeaud had a journey to Saigon, Vietnam. It took him and another person who alternatively cycled around 200 km 17 hours and 23 minutes. Cyclo started appeared in Saigon. After that, cyclo was brang to Hanoi by 4 men (Mr Bui Quang Y at 44 Hang Be street, his brother Mr Vong, Mr Nhan in Thanh Nhan street and Mr Duc Am in Trang Tien street). The cyclo was changed a little bit larger and wider than the orignial one. Cyclo started appeared in Hanoi then.
During the American war, the cyclo was an efficient means for production, combat such as transporting evecuees, injured soldiers, cargo and ammunition….
Peaceful time, cyclo became a familiar transport of Hanoi people, especially for women. Sitting on the cyclo, people can feel free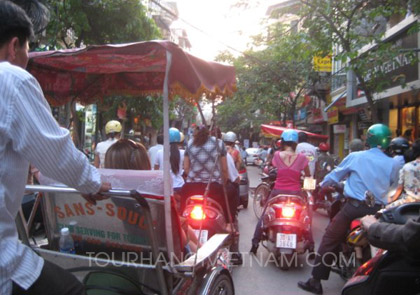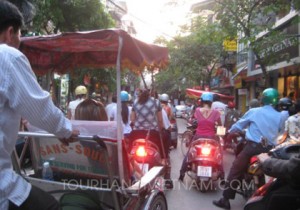 and gentle. They could see the streets, relax and not need focus on driving. Taking this kind of vehicle, they also did not need worry about raining or sun cause there were always covers on each cylo.
Since 90s onward, the country is developed and Hanoi increasingly more crowded, narrow streets become overloaded, cyclo is not useful as before. Cyclo become the main vehicle for tourists. Foreigner prefer tourists for their leisure time at the Old Quarter, Hanoi 36 streets…..
The cyclo trip 1 hour around the Old Quarter costs VND100,000 to VND150,000. Please don't hesitate to ask the price and bargain before take it.