In addition to its historical landmarks and revered temples, Hanoi, the capital city of Vietnam, offers pockets of greenery within its bustling urban landscape. Amidst the weariness of city life, with its smog and traffic noise, one can find solace in the serene natural surroundings of Yen So Park. It serves not only as a haven for picnics and outdoor activities but also as an exciting new tourist destination in Hanoi that should not be missed.
Location Of Yen So Park
Yen So Park, located adjacent to the Phap Van – Cau Gie expressway interchange in Yen So Ward, Hoang Mai District, stands as one of Hanoi's most sought-after camping destinations. It was meticulously designed to expand the city's green spaces while providing a recreational haven for the nearby community. Boasting a sprawling expanse of 323 hectares, the park encompasses around 280 hectares of flourishing foliage and tranquil lakes. At its core lies a picturesque lake embraced by rolling hills, verdant trees, and meandering pathways, offering a serene escape from the urban clamor. Amidst the lush vegetation, the park showcases an array of remarkable architectural marvels, including a captivating maze garden, an open-air theater, a charming boat house, a cultural village, and an art exhibition hall. These unique attractions have quickly become beloved landmarks and popular weekend retreats for locals and visitors alike. Yen So Park grants a genuine resort-like experience without demanding excessive travel time. With its enviable location and abundant greenery, the park has firmly established itself as a favored weekend destination for Hanoi residents and tourists seeking solace in nature's embrace.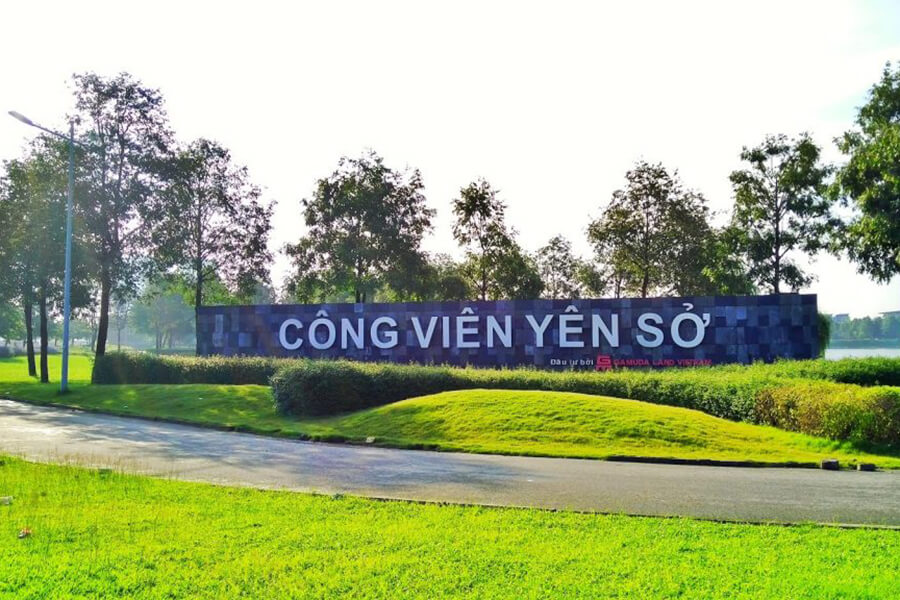 Transportation To Yen So Park
Yen So Park's main entrance is strategically located along the road connecting the Nuoc Ngam Bus Station to Thanh Tri Bridge, which is part of the third ring road. This road serves as a vital gateway to the southern part of the capital city, making it easily accessible via Google Maps. Visitors can reach the park using various modes of transportation, including private vehicles such as cars or motorcycles, as well as taxis and ride-hailing services. Yen So Park offers convenient access for travelers with a range of transportation options.
Camping Experience at Yen So Park
For outdoor enthusiasts, Yen So Park offers an ideal setting for camping adventures. Here are some valuable tips to enhance your camping experience in the park:
Rent Tents At Yen So Park
If you don't have camping gear, worry not! Yen So Park provides rental services for tents and camping equipment, ensuring a hassle-free experience. Renting tents is a convenient option for those who want to try camping without the need for extensive preparation.
For travelers who are not residing in Hanoi, it is recommended to opt for the all-inclusive camping services at Yen So Park. Here, a comprehensive range of camping equipment is provided to ensure a hassle-free outdoor experience, including tents of various sizes, BBQ grills, tables, and chairs. The prices for these rental items range from 30,000 VND to 500,000 VND. By availing these services, visitors can conveniently enjoy their outdoor adventure without the need to bring their own camping gear
Team Building Games And Outdoor Activities
With its vast space and a capacity of up to 10,000 people, Yen So Park serves as an ideal venue for team building programs. In addition to its refreshing green landscape, abundant trees, and clean air, the park offers professional team building services. If you wish to organize group activities here, you can choose the Ngoc Island area, which can accommodate approximately 4,000 people. Team Building games foster teamwork and strengthen bonds among participants.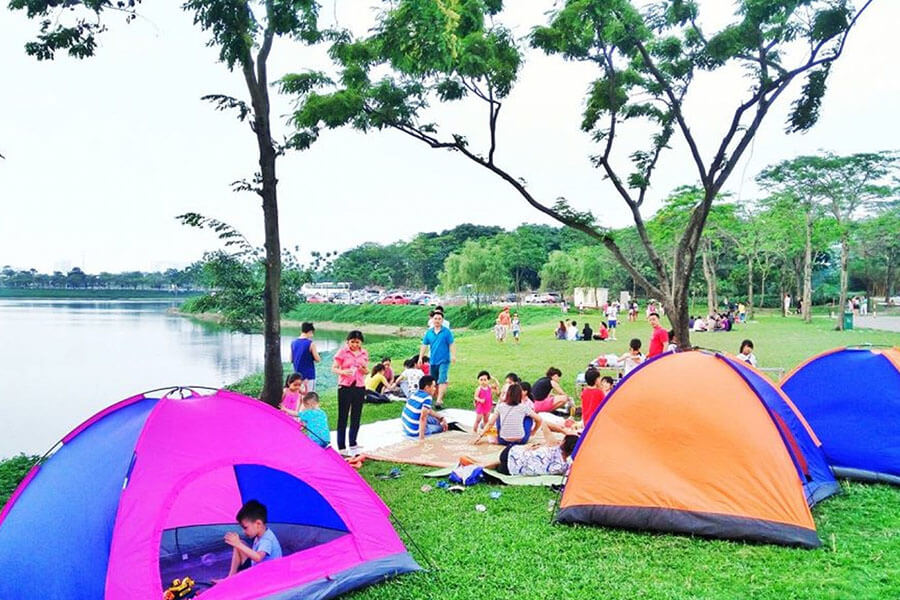 Picnic And Camping In Yen So Park
Camping is the most popular activity chosen by visitors to this park. The park features spacious areas with well-manicured green lawns along the lakeside, making it an ideal spot for pitching tents and overnight camping. Travelers have the option to rent camping equipment from the park management, including tents, sleeping mats, cooking stoves, and utensils. Alternatively, they can bring their own camping gear to save costs.
Overnight Camping At Yen So Park
Yen So Park is open daily from 5:00 AM to 7:00 PM. However, if visitors wish to camp overnight, they need to contact the Park Management in advance and ensure a commitment to fire safety regulations. Camping overnight at Yen So Park is an exciting activity where travelers can gather around a campfire, engage in conversations, and marvel at the sparkling and enchanting starry sky. It offers a unique and memorable experience amidst the natural surroundings.
Yen So Park is a haven for nature lovers and outdoor enthusiasts, offering a range of activities and a tranquil escape from the urban chaos. Whether you're looking for team building opportunities, picnicking, or camping adventures, this park has it all. Plan your visit, immerse yourself in the natural beauty, and create unforgettable memories at Yen So Park.