Dong Xuan Market is located in the Old Quarter, borders Dong Xuan ward to the west, Hang Khoai ward to the North, Cau Dong ward to the South, and a lane of Dong Xuan market to the East. The gate of the market looks towards the west, there is a small space in front of the market. And right behind the market is Bac Qua Market. Thus, many people called both as Dong Xuan – Bac Qua Market. Dong Xuan is not just a great trading center of Hanoi and Vietnam, it is also an attractive sight for tourists.
Hanoi has a Hoan Kiem Lake in the heart which has become a symbol and the pride of everyone in Hanoi. However, when mentioning to Hanoi, it could not ignore Dong Xuan market. Anyone has the opportunity to visit Hanoi, if they miss Dong Xuan market, they will just know a small part, a little corner of Hanoi.
500 years ago, when To Lich River was not filled, the people still congregated in two small markets in the bank of the clean and cool river. One is at Bach Ma (White Horse) Temple, Ha Khau ward (Hang Buom today). Another place is in Cau Dong Pagoda (No. 38B Hang Duong now). Two small markets are assembled outdoors, on the ground of the river with bustling marina, crowded villages, and exchange of commodities around the area. The market also was spread to Huyen Thien Temple (Hang Khoai).
In 1899, French markets repressed these markets and put people into the bigger market which is the empty area of Dong Xuan ward with thatched roofs, bamboo walls, and bamboo fence around. Anyone who went to the market had to pay the market tax, therefore, many people just gathered outside the market. In 1890, the French constructed the market with a house of 52m in length, a wall of iron, and zinc roof which made Dong Xuan market itself be the biggest market in Hanoi since that day. The wall has gradually been building and strengthening. There are three gates to come into the market, and 2 alleys, one connecting to Hang Khoai, a smaller one going through Hang Chieu. Ten years recently, Bac Qua market has had a textile mill, Le Page. After the mill had closed, it became a football field, and gradually entered into Dong Xuan market as today, over one thousand square meters wide.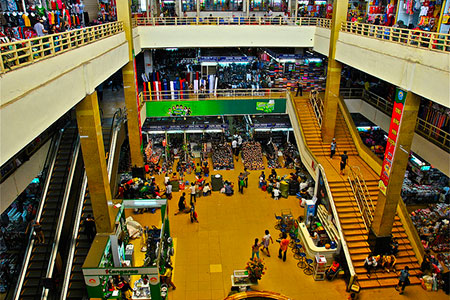 Dong Xuan market initially was only a fair, the two-day session, but later due to the needs of the trade and economic development, the market was assembled day by day from morning to night. Goods sold in the market are very diverse from agricultural products, foods, fruits and vegetables to fabric and machine of French, Chinese, and Indian. Along with the expansion and development of Dong Xuan Market, more and more the Vietnamese traders, as well as foreigners, has come here to do business here.
Prosperity and bustle in Dong Xuan market slowdown as the national resistance broke out in 1946, Dong Xuan market became a point of fierce fighting. Here, it took place the battle between the Patriotic military against Le Duong army of French and numerous Vietnamese Patriotic military and French army died before leaving Hanoi.
Dong Xuan Market continues to be a pride and restlessness of Hanoi citizens. At the market, shopping or just walking is still different from walking around Hoan Kiem Lake, on Thanh Nien Road or Thu Le Park. It is not only economic but cultural as well. Dong Xuan Market is the "stomach" of Hanoi, is the belief of many who have not visited Hanoi and also represents the bustle and jubilation of a nonstop growing Hanoi.
Like most open markets in the country, there are many interesting things waiting for tourists to explore. And, remember seeing labels carefully before buying any branded items and bargain if there is no notice board of no bargaining in the stalls. Moreover, be gentle and slow when paying to avoid unnecessary troubles. Although, exploring the market is always interesting, remember that many items will be hard to bring about by air. However, the market has several stalls selling traditional crafts or souvenirs, and this may be the appropriate choice for travelers.