Experience the Energy of Hanoi's Nightlife Scene
Hanoi, the vibrant capital city of Vietnam, is not only known for its rich history and cultural heritage but also for its thriving nightlife. When the sun sets, Hanoi transforms into a whole new world, where the city comes alive with an electric energy. From bustling night markets to trendy bars and clubs, Hanoi offers a diverse range of options for those seeking a memorable evening experience. Let's dive into the pulsating heart of Hanoi's nightlife and discover the top attractions and hotspots that will make your nights in the city truly unforgettable.
Night Market Delights: Exploring Hanoi's After-Dark Shopping
One of the best ways to soak up the lively atmosphere of Hanoi at night is by visiting its vibrant night markets. These bustling markets offer a fascinating blend of local culture, delicious street food, and unique shopping opportunities. Head to the famous Dong Xuan Night Market, located in the heart of the Old Quarter, where you can wander through a maze of stalls selling everything from fashion items and handicrafts to tasty local snacks. Don't forget to bargain for the best prices and indulge in some mouthwatering Vietnamese street food along the way.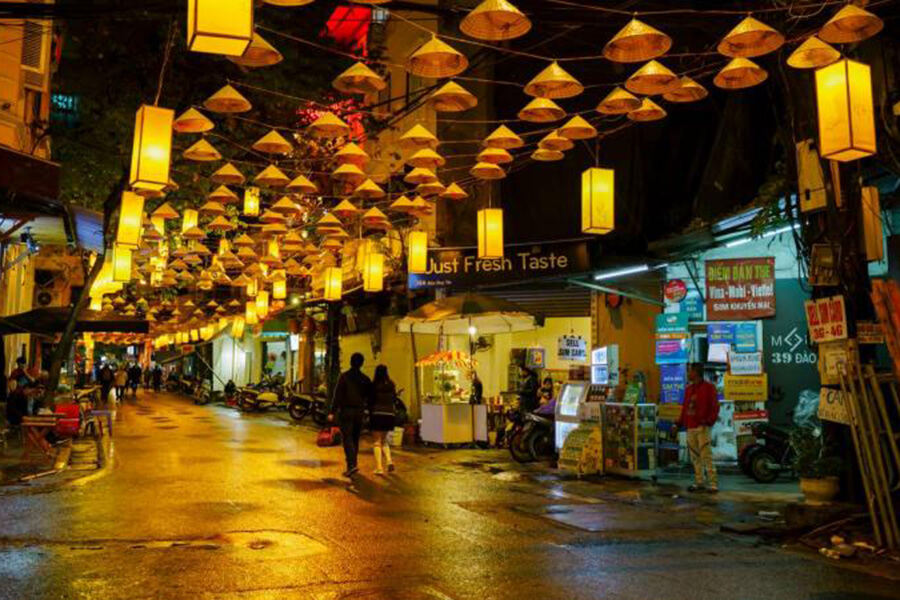 Sipping Cocktails with a View: Hanoi's Rooftop Bars
For a more sophisticated nightlife experience, Hanoi's rooftop bars are the place to be. These trendy establishments offer panoramic views of the city skyline, creating a perfect setting for enjoying a cocktail or two. The popular Skyline Hanoi Bar, located in the city center, provides a chic and stylish atmosphere with its modern design and breathtaking vistas. Sit back, relax, and savor your favorite drink while taking in the mesmerizing sights of Hanoi illuminated by the city lights.
Music and Dance: Live Performances in Hanoi
Hanoi's nightlife isn't just about bars and markets; it also offers a vibrant live music and dance scene. Whether you're a fan of jazz, rock, or traditional Vietnamese music, there are venues in Hanoi that cater to every taste. Check out the iconic Binh Minh Jazz Club for some smooth jazz tunes or immerse yourself in Vietnamese culture at the Thang Long Water Puppet Theater, where traditional puppet shows accompanied by live music will transport you to a world of enchantment.
Clubbing All Night Long: Hanoi's Party Scene
If you're looking to dance the night away, Hanoi has a dynamic clubbing scene that won't disappoint. From underground clubs to popular hotspots, the city offers a range of venues where you can groove to the latest beats. The Savage Club, known for its energetic atmosphere and electronic music, attracts a young and vibrant crowd. For a taste of Hanoi's underground scene, don't miss the chance to visit the legendary Hero Club, where local DJs spin a mix of house, techno, and hip-hop.
Safe and Enjoyable Nightlife in Hanoi
While exploring Hanoi's nightlife, it's essential to prioritize your safety. Stick to well-known and reputable establishments, and always be aware of your surroundings. It's also advisable to travel in groups and take advantage of reputable taxi services or ride-sharing apps when moving around the city at night.
Hanoi's nightlife is a testament to the city's dynamic and vibrant spirit. Whether you prefer shopping at night markets, enjoying cocktails with stunning views, experiencing live music performances, or dancing the night away in clubs, Hanoi has something for everyone. So, when the sun sets and darkness falls, immerse yourself in the pulsating energy of Hanoi's