Recently, Hanoi is trying to create new, modern and attractive tourism products to attract a large number of tourists and increase duration of stay. One of them is the construction of the amusement park with international standards such as Kim Quy or Golden Turtle Park project in Dong Anh which have just begun in September 2016.
Not far from the city center, the culture and entertainment park – Kim Quy located in Anh District, Hanoi. The Park with an area of over 100 hectares is designed to combine between the culture of the Co Loa land and the modern of Universal Studios, Disneyland model. In the first phase, SUN Group plans to invest 4.600 billion to build the core items of the project. Phase 1 of the Park is expected to be completed within 18 months and will be put into service in 2018.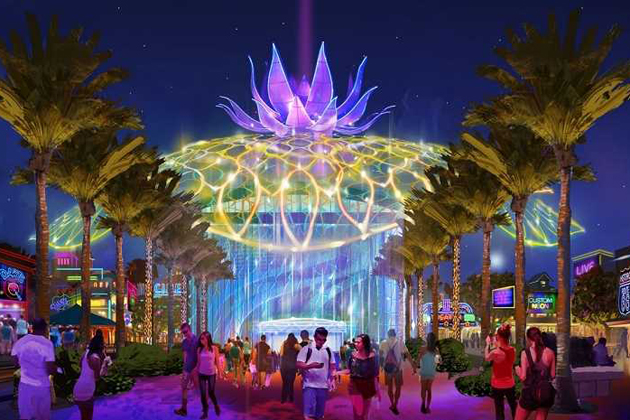 When in operation, the work will not only bring to people of the capital a green and peaceful space but also a unique and meaningful entertainment destination. Inspired by the legend of Co Loa citadel, overall park space is designed in the shape of the god Kim Quy facing the citadel. The buildings, trees and water are arranged in a spiral as the Co Loa relic – the capital of the ancient King An Duong Vuong. The big difference is that the park is a tree garden and public park which offers an open space for people to perform outdoor activities.
Reportedly, the business designing the park is the world's leading group with over 30 years experience in the field of designing the park – ITEC, USA. Kim Quy Park when in operation will be an interesting destination, help us understand more about the history of Hanoi and Vietnam homeland through stories about Co Loa citadel and legends about golden turtle Kim Quy. At the same time, it is also a fun destination to enjoy endless shopping experience and enjoy dishes from all over the world, enjoy the attractive images.
Along with its excellent design, the park is a convergence of high-tech games. It will include virtual games, high – tech and modern games. Outdoor park is designed in the theme, such as Sun Wheel rotation and balloon, … helping visitors can watch the peaceful Hanoi from above. There are also populations of areas of art, culture village Kim Quy – the site of the largest art shows in both national and international scale, the tree-lined road …