Ngoc Son meaning Temple of the Jade Mountain was built in 18th century in the center of Hoan Kiem lake. This temple dedicated to Tran Hung Dao, a national hero, scholar Van Xuong, and Nguyen Van Sieu, a Confucian master who had a big contribution to repair the temple. And, the temple today follows the Chinese architectural style designed by Nguyen dynasty at that time.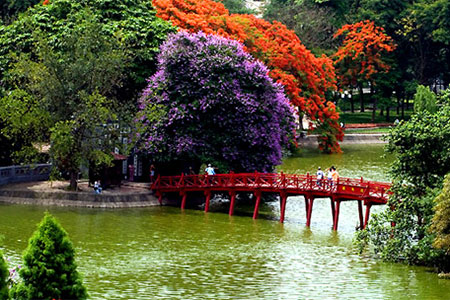 When the Confucian master, Nguyen Van Sieu, took a role to repair the temple, it was built with more land and had rock embankments surrounding, constructed Tran Ba Pavilion (Preventing Waves from Crashing), set up a bridge from the east to go into the temple called The Huc (the Morning Sunlight Bridge). On old Boi Ngoc mountain, he built a stone tower, top of the tower resembles a writing brush, and the body of the tower was carved with three words "Ta Thanh Thien" (writing on blue sky), which is now more commonly called Pen Tower, the first gate. Next is the gate called Dai Nghien (the Writing Pad) having the shape of a peach. The Huc Bridge leads to the main gate.
The entrance of temple names Dac Nguyet Pavilion meaning pavilion opposite the moon. The main area of Ngoc Son temple has three parts, the front is Tran Ba pavilion; in the middle is the main altar, and final is harem. The main altar consists of two interconnected temples, the first temple on the north dedicates to Tran Hung Dao and Van Xuong. The temple is square-shape, and has 8 roofs, 4 stone columns outside and 4 wood columns inside. Apart from Van Xuong, La Dong Tan (a god of Taoism), Quan Van Truong, and Tran Hung Dao, the temple also dedicates Buddha that represents three co-existing religions idea of Vietnamese.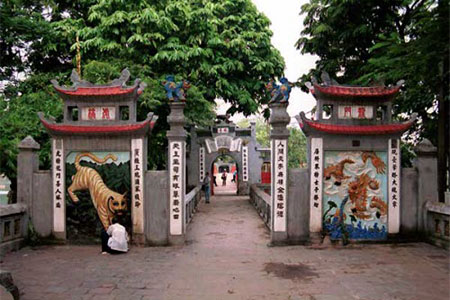 Visit Ngoc Son temple brings to you a deeper understanding about belief and religion of Vietnam, helps you acknowledge Vietnamese culture and lifestyle. The combination of Confucianism, Taoism and Buddhism can be expressed in one place. People do it naturally, in harmony, without distinguishing what is Buddha, Taoism or Confucianism. Which religions or divines bring good faith to life are worshiped by Vietnamese people. That is the spirit of Vietnamese when reconciling all beliefs and religions. Ngoc Son Temple is still standing there, Pen Tower is still writing on blue sky. All is not just a beautiful complex in the heart of Hanoi, which is also the spiritual world of Vietnamese people, past and present.
The combination of Ngoc Son temple and Hoan Kiem Lake has evoked the harmony between nature and human being and become unforgettable symbols of Vietnam towards foreigners.