Together with the village, the pagoda is a familiar image to Vietnamese people from the past to present. If in the traditional villages, the village temples still exist, in the urban and big cities, there are also many pagodas, temples, and churches. Referring to the famous pagodas and temples in Hanoi, besides Thang Long Four Towns including Bach Ma Temple, Voi Phuc Temple, Kim Lien Temple and Quan Thanh Temple as well as the ancient pagodas such as Tran Quoc Pagoda, it cannot ignore Quan Su Pagoda located at 73 Quan Su Street, Hoan Kiem District. This is the most ancient pagoda in the center of the capital.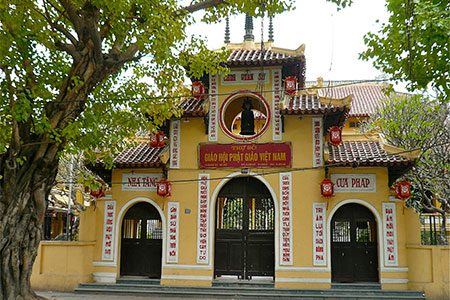 Quan Su Pagoda or Ambassador's Pagoda was founded in the 15th century located on the territory of An Tap village, Co Vu ward, Tho Xuong district, today Quan Su Street of Hoan Kiem District. Formerly, this ward had no temple and had only a few cottages in the south, and villagers used them as a sacrificial site to pray for the peace, as a result, the village was called An Tap. According to historical documents, in the reign of King Le The Tong, Champa and Laos often sent ambassadors to our country. Therefore, the king erected a building called Quan Su to welcome the ambassadors to Thang Long. As ambassadors of these countries were so devout Buddhism, a pagoda was constructed located on the area of Quan Su to organize ceremonies. Time has erased traces of cottages but Quan Su pagoda still exists.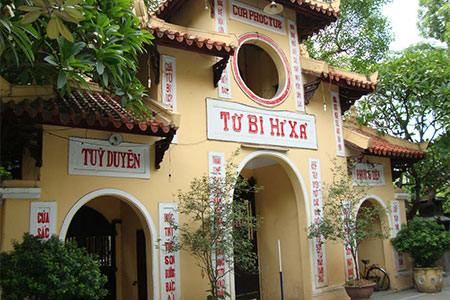 In 1934, Tonkin General Buddhist Association was established, Quan Su Pagoda was chosen as the headquarters. In 1942 the pagoda was reconstructed. Quan Su Pagoda is probably one of the few pagodas in Vietnam that the name of the pagoda as well as many parallel sentences are written in the national language, perhaps, because the pagoda was rebuilt in the mid-20th century, and since the temple has become the central headquarters of the General Buddhist Association of Vietnam.