For many people, vegetarian dishes have become more familiar and become the indispensable choice in the dining menu. It can be said that vegetarian dining has become a trend in culinary nowadays not only because of spiritual beliefs but also due to the benefits to health. For those travelers who prefer vegetarian food or want to try, Hanoi is a destination that's hard to ignore. Top places appreciated by the culinary community and vegetarian believers will add to the dining list of guests extremely great choices.
Nang Tam Vegetarian Restaurant
Address: 79A Tran Hung Dao Street, Hoan Kiem District
Rated as one of the most delicious vegetarian restaurants in Hanoi, few people know that this place is the first restaurant serving vegetarian dishes in the capital, Hanoi. In addition to a varied menu with over 60 typical dishes of all 3 regions and many other countries, this Hanoi vegetarian restaurant also creates a deep impression in the hearts of customers by beautiful space of old villas which brings pure feeling like dwelling in a place of meditation. Amid the busy and hustle life, many people prefer to vegetarian restaurants in order to find their own moments of peace and stillness of space. Nang Tam Vegetarian Restaurant in Tran Hung Dao Street is such a place.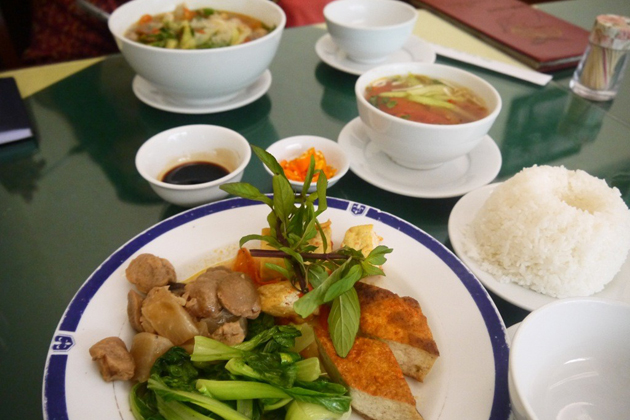 Bo De Tam Restaurant
Address: 68 Pham Huy Thong Street, Ba Dinh District
In the top of delicious vegetarian restaurants in Hanoi, Hanoi vegetarian restaurant Bo De Tam has a long menu of vegetarian food. In Bo De Tam, diners will feel like being led into the quiet meditative place. Inside the restaurant, the mingling of light from the lotus lamp and candles is the melodious tunes of Buddhist music. Enjoy tea and vegetarian dishes at the end of the year will help you get rid of all the chaos, worries. The restaurant has a romantic atmosphere with lovely garden and wooden Buddha statues. In the noisy streets of Hanoi, the restaurant is a peaceful place that helps you absolve all your troubles to find a gentle heart as well as serenity.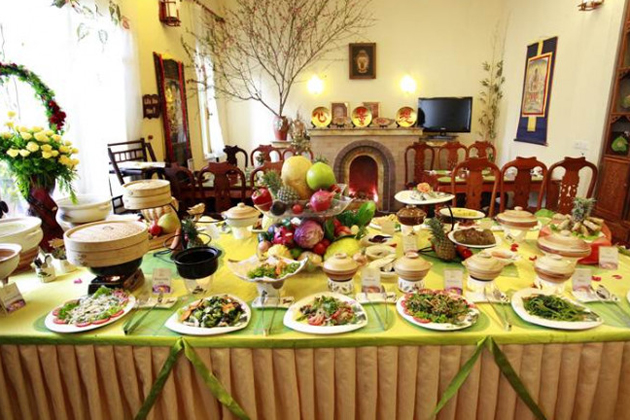 Tinh Thu Quan Restaurant
Address: 43 Tran Huu Tuoc, Nam Dong Street, Dong Da District
As one of the famous vegetarian restaurants in Hanoi, Tinh Thu Quan has a cozy, quiet space suitable for moments of relaxation after the noise of bustle life outside. Visit here, travelers can feel pleasure to talk with friends while drinking a cup of tea or also enjoy mushroom soup and in the chilly days.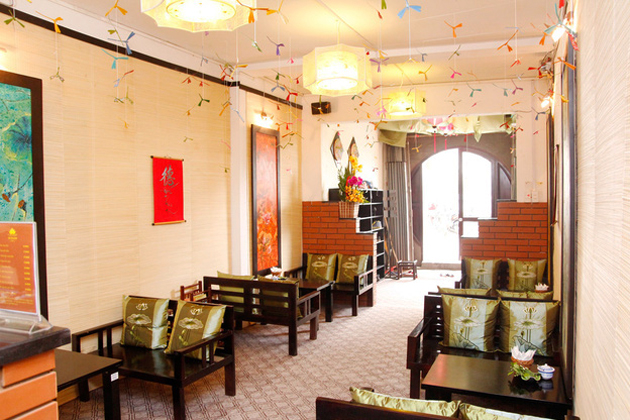 Com Chay Ha Thanh Restaurant
Address: No 116, 166 Kim Ma Street, Ba Dinh District
This restaurant is located in the alley of Kim Ma Street, Com chay Ha Thanh has airy, tranquil space with harmonious design, the menu is designed with a variety of vegetarian dishes from noodles, vermicelli to light snacks and vegetarian feasts. Visit the subdued atmosphere of Ha Thanh vegetarian restaurant, diners will enjoy quiet moments and relax after hard working hours.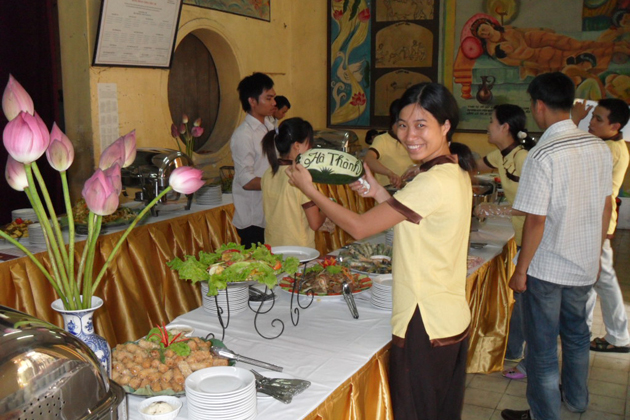 Loving Hut Restaurant
Loving Hut is in the top 50 best vegetarian restaurants in Vietnam. Loving Hut is a familiar address of many women officers or many young vegetarians with beautiful and youthful decor like a café shop for young people. Currently, Loving Hut has built a system of 4 restaurants in Hanoi including:
– Loving Hut World Vegetarian, No 192/4, Quan Thanh Street, Ba Dinh District
– Loving Hut An Lạc, Ta Quang Buu Street, Hai Ba Trung District
– Loving Hut Nguon Coi, 121 Lang Street, Dong Da District.
– Loving Hut Thien Phuc, No 18, 71 Nguyen Hong Street, Dong Da District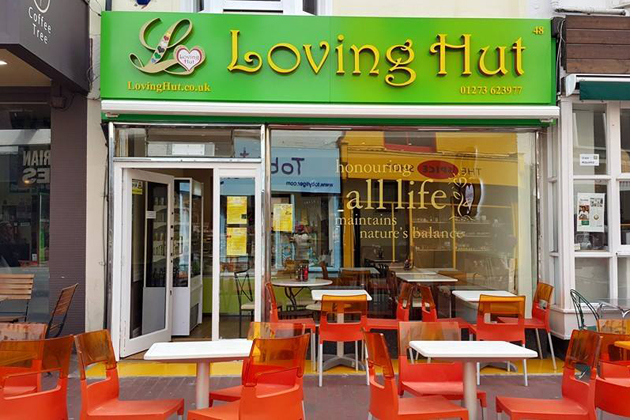 Bo De Trai Restaurant
Address: No 15, 12 Lang Ha Street, Ba Dinh District
Bo De Trai restaurant has nearly 40 vegetarian dishes made from fresh and nutritious vegetables, fruit suitable for vegetarian diners or people in the diet, but still ensure sufficient nutrients for the body and daily health.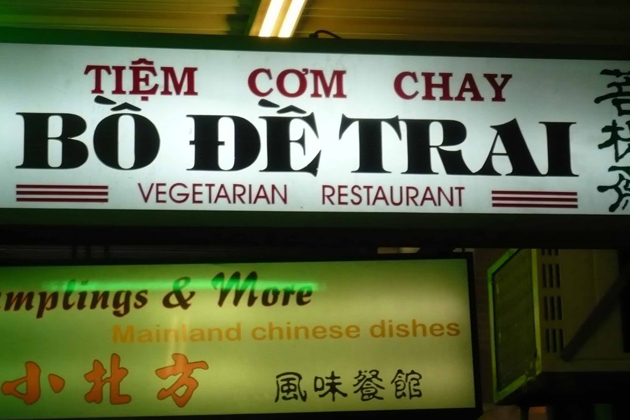 Com Chay Khai Tuong Restaurant
Address: 289 Kim Ma Street, Ba Dinh District
Khai Tuong vegetarian restaurant on Kim Ma is an ideal destination for families who want to enjoy the vegetarian dishes made from fresh homemade ingredients. The restaurant's vegetarian dishes are made from plant materials, especially the fungus, to satisfy the taste of all customers.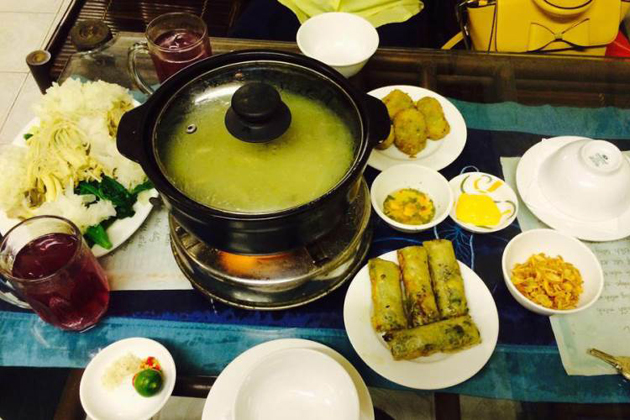 SALA Restaurant
Address: 170 Ngoc Ha Street, Ba Dinh District
Surely you will be impressed right from the entrance with flowers and lush green space outside as well as the tranquil space inside. Luxurious but simply space will give you an incredible purity. SALA restaurant gives guests the delicious vegetarian dishes, ensure safety as well as adequate nutrition and culinary convergence of the 03 regions of the country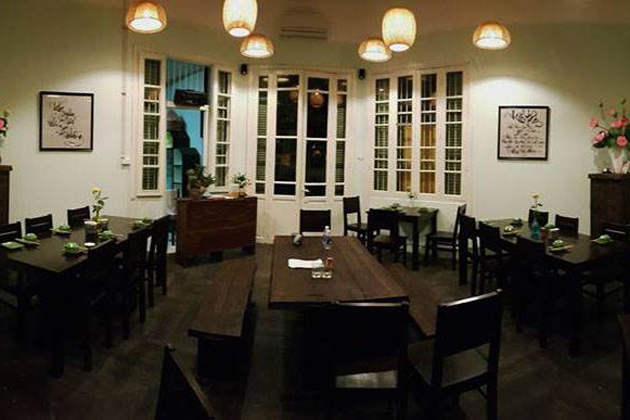 Thien Phat Vegetarian Restaurant
Address: 91 Ly Thuong Kiet Street, Hoan Kiem District
Located on the most crowded streets in Hanoi, Hanoi vegetarian restaurant – Thien Phat is like a bass note in the chorus of bustling streets. Thien Phat means where the goodness is originated. Stop and walk through the brown wooden door, diners will have many things to discover and admire.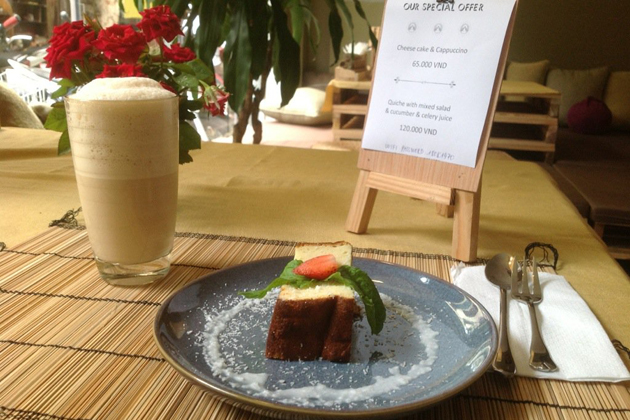 Truc Lam Trai Vegetarian Restaurant
Address: 39 Le Ngoc Han, Hai Ba Trung Street
Owning a peaceful and rustic space, Truc Lam Trai is the ideal place for you to enjoy pure vegetarian dishes. Visit here, you will be immersed in a calm and quiet world, away from all the noise and the hustle of life, and be comfortable to exchange experiences of Zen practice.