If visitors take day trips around Hanoi, you should not ignore one of the most famous destinations that is considered Ha Long Bay on land. It is Trang An eco-tourism complex. Come here, the visitors will be drunk in the majestic and magnificent natural scenery, discover the root of human life from the early periods, and have chance to come back to the yellow pages of history in constructing and defending the country of ancient Vietnamese people, from the Dinh, Le, Ly, Tran dynasties.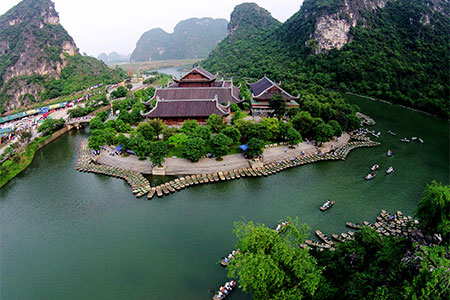 Trang An eco-tourism complex with an area 2168 hectares, is located in Trang An scenic complex belonging Ninh Binh province. Trang An is not only renowned for outstanding and poetic natural beauty, but also carries outstanding values in terms of geology and hydrology, biodiversity, culture, and history. In 2014, Trang An scenic complex was officially recognized by UNESCO as World Cultural and Natural Heritage.
Trang An is one of the places with the most beautiful and charming karst towers in the world. The landscape is covered forest floor and the imposing conical towers with the narrow and closed holes, surrounded by interconnecting ridges. Moreover, swamps are interrelated through a system of underground streams in length up to 1 km. The harmony of stone, river, forest and sky in Trang An creates full of charm of a lively natural world. It is a very special place, where culture contacts with wonders, mystery and grandeur of the natural world, and culture also have been altered by those things.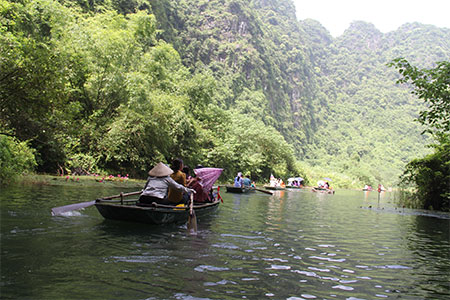 Trang An is a testament for the final stage of the karst evolution in environment with humid tropical climate. The geological and geomorphological diversity presenting in Trang An scenic complex results from the ongoing geological activity over hundreds of millions of years from Triassic to Quaternary. During this time, the collapse of geomorphology and high distribution of huge karst limestone massifs have happened here. The main geological events have created the pristine and charming mountains, sedimentary valleys and sinkholes. All of them make diverse forms, geology and geomorphology, caves and the water system of Trang An scenic complex. According to statistics, there are about 50 water caves and 50 dry caves clustered continuously and connected together. Trang An area with a typical Karst terrain has important implications in the study of the evolution of the topography, geology, hydrology in Vietnam in particular and the world in general.
Trang An is well known for high biodiversity of ecosystem, rich flora and fauna species are divided into limestone and aquatic ecosystems. It has many rare plants and animals, located in Vietnam's Red Book that need to be protected.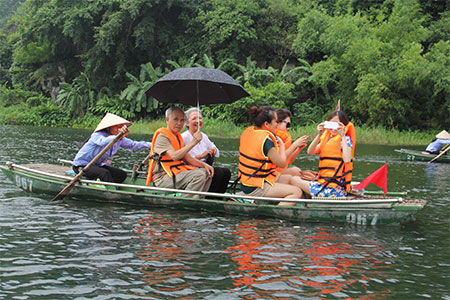 In particular, the area of Trang An eco-tourism brings outstanding values for the history and culture. During the researching, surveying as well as archaeological excavations, researchers have found more remnants, relics of the ancient Vietnamese in some caves (especially Boi cave). These are important evidence for the study of traditional culture and civilization of the ancient Vietnamese.
Trang An is also renowned as a sacred land, witnessing and preserving marks of the ups and downs of Vietnam's history. Previously, Trang An is the south wall of Hoa Lu ancient capital. With high mountain terrain and dangerous rivers, Trang An was the capital of the resistance against Yuan – Mongolia, the opening place of conquering Thanh invaders of King Quang Trung, and a place with an important contribution to the victory of many battles in the war against French and American. Today, in the imprint of history, ancient culture has been saved in many temples, pagodas and shrines here.
First, Trinh Temple is located on the bottom of mountain. Experiencing the different periods of transformation, the present temple was renovated and expanded with more spaces. In front of the temple, two loyal officials of Dinh dynasty were worshipped, Ta Thanh Tru and Huu Thanh Tru. According to legend, after King Dinh Tien Hoang died, the court was in chaos, General Le Hoan held the power. They helped Dinh Toan avoid Le Hoan. After Queen Duong Van Nga gave the throne to Le Hoan, the two decided not to "worship two masters", and committed suicide here. People have been established the temple to commemorate and praise the spirit of them. The main palace worships four people: Nguyen Bac, Dinh Hien, Luu Co and Trinh Tu. These people are great venerable pillars of Dinh dynasty.
Next is Tran Temple. It is built of stones with unique architecture with finely carved motifs. It worships general Quy Minh and his wife. St. Quy Minh is the general governing ancient Son Nam. Temple is the town of the South, one of the Four towns of Hoa Lu ancient capital. Until the thirteenth century, King Tran Thai Tong came here to build Vu Lam palace and restored temples, therefore, it was called Tran temple.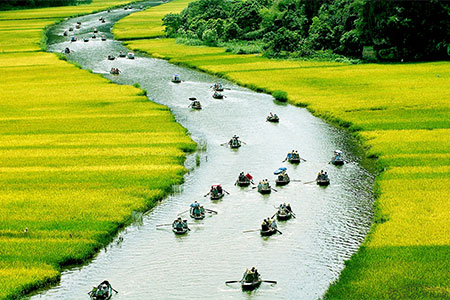 Then is Khong palace, it was constructed according to the shape of the word Dinh, and the temple gate overlooks the vast lake. There is an ancient tree with thousands of years old in front of the palace.. According to the elders, when King Dinh Tien Ha died, seven loyal officials brought many fake coffins buried in many places, and then committed suicide in order to keep secret about the location of the real tomb. Dinh Cong, an official in the court, admired their actions, so he built an altar in the palace. The word "Khống" means the secret location of King Dinh Tien Hoang's tomb that still remains a mystery until today.
Besides, Trang An also have various caves. Some typical caves are Dia Linh, Toi, Sang, Nau Ruou, Sinh, Si, Ba Giot, and Khong caves. In these caves, you can see a large system of beautiful stalactites with different shapes creating a vivid picture about the Karst system in Trang An. The boat moves smoothly on rivers, gradually bringing tourists entering different caves. It makes visitors feel as if you are traveling in the pristine place. Four sides is the straight cliffs carrying the color of ancient moss with fresh air and pure atmosphere. In Trang An, you seem to go into a "forgotten world", away from urbanized place with rush and bustle lifestyle. Trang An with pensive, wild and mysterious beauty will bring you an unforgettable experience.