Van or Van Van village is located in Van Ha Commune, Viet Yen district, Bac Giang province, about 35 kilometers from Hanoi. According to feng shui (wind-water) theory and folklore perspective, Van Ha has the shape like the return of the Dragon to birthplace, like Tiger betel to ancestor's temple. According to the current official history books, there is no documentation stating precisely how and when Van Village was formed. However, according to customary, Van Village has formed over 1,000 years ago, along with the famous Van Village Wine product that was illustrious everywhere handed down through centuries. From Hoa Vang sticky rice with yeast in combination with the ancient esoteric method of families, soil and local water resource have created a special wine that is typical of the culture of the Northern region.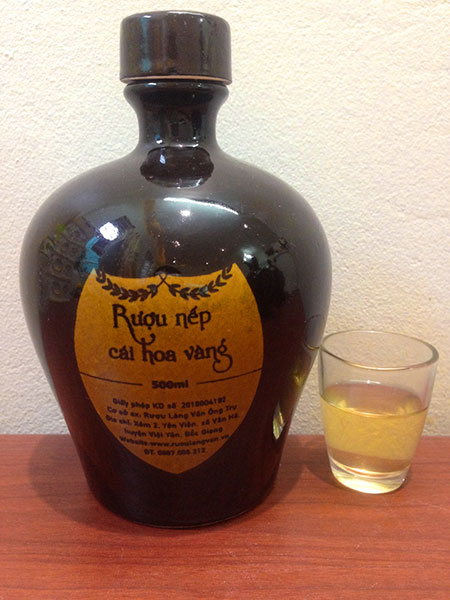 With favorable geographical position for water transport, and being a peninsula with three sides bordering Cau river, Van Ha developed commercial trade and exchange of goods with the surrounding areas, including alcohol. The craft of cooking wine was quickly brought the prosperous development to the people here. Due to the important location and economic role, Van Ha became the center for the whole district in the first period of the Nguyen Dynasty. Under the feudal dynasties of Vietnam, wine of Van village was offered to the king, and often used in important banquets. Because of the typical wine taste of northern regions, wine in Van village made kings and officials praise.
Under French domination, cooking wine craft in Van village was expanded in scale and improved the level. With very high profits from cooking wine, French investors have invested in building a winery at Van village, which today still remains traces of tanks, the wine filtering tower. Although investors built a factory but still kept traditional method and yeast to retain the characteristic flavor. After completing, the wine was put on the ship and along the Cau River it came out all over the world.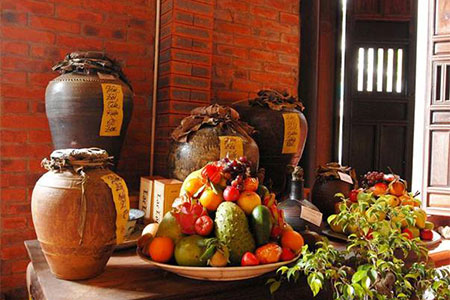 Van village's wine is an indispensable specialty in luxurious parties, festivals or as gifts. Alcohol was cooked by flavorous sticky rice with heirloom yeasts which are 36 rare herbs and ingenious soaking art of the people here. To keep the secret recipe of cooking wine, since ancient times, Van Ha people had a sense of protecting their traditional craft. In the family, parents begin training only for sons and daughters in law. This practice is strictly followed and become a long-standing vow in Van village.
Visit Van village, you will not be able to forget the mellow and fragrant flavor just existing here. Enjoy peaceful and tranquil space of a village in the North will be an interesting and new experience in yours trips around Hanoi.