Situated by the side of Red river of An Tuong town – Vinh Tuong district sharing a border with Ba Vi, Son Tay, Hanoi in the west, the 300 – year village – Bich Chu has a long-standing history of carpentry profession. Mentioning Bich Chu, it is referred to its wooden-made-product techniques with sophisticated carving which produce such popular wooden products such as wardrobes, beds, tables, chairs, tea chests & hight-artwork wooden furniture including statues in the temples, the red lacquer trimmed with gold Buddhist temple.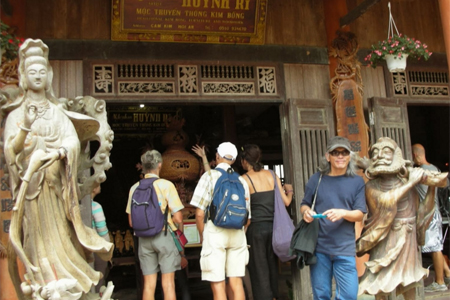 With their skillful hands and creativities, Bich Chu villagers have made lively and soulful sculptures from precious wood.
The villagers produce not only common household wood furniture, but also fine art wood furniture and statues and other woodcuts for worshiping with sophisticated traditional decorations. Head to the village, visitors can learn about statue making process from raw material to finished products and find your own favorite items.