In your trips surrounding Hanoi, you should spend some time to visit one of the most famous jewelry villages in Vietnam. If Hanoi has Dinh Cong village, when referring to Thai Binh, It cannot ignore to mention the famous jewelry village, Dong Xam. Here, you will admire the silver carving masterpieces of a centuries-old village – Dong Xam, Kien Xuong district, Thai Binh province.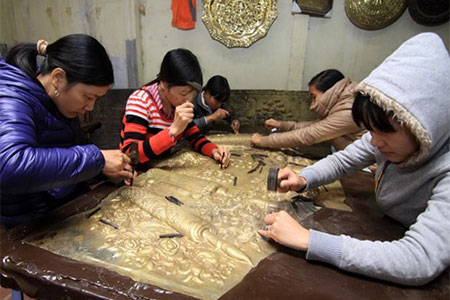 At the end of the fourteenth century, in the village of Duong Tham village, Chan Dinh district has a welding technician named Nguyen Kim Lau. Every day, he carried with a few tools and old pots to all the villages in the commune to work. Working in the surrounding area is not enough to live, he increasingly must go further. Disappeared in six or seven years, one day, he suddenly returned the village and villagers found him richer than before. He learned silver carving in Bao Lac. Thence, he taught silver carving technique for people in the village, then slowly formed Dong Xam village as nowadays.
Step to the village, you will hear somewhere echoes of carving in the peaceful space of a rice paddy field countryside. After the sound of carving and welding, so many products with the sophisticated pattern are made from the skillful hands of Dong Xam artisans. Under bright lights whether in the sunny morning or rainy afternoon, everyday, workers are still hardworking and carve meticulously each decoration. You will see the stages of producing which are completely manipulated manually by the rudimentary tools such as the stick, nail, and hammer. Each person takes in charge of a part, shaping, creating pattern or flowers. In particular, the carving stage requires concentration, dexterity and the most time-consuming. Just causing an error of a small detail will discard this product or start to do it again. From the rough copper sheets, they are engraved or embossed with a simple, delicate, gentle way or sometimes in a picky and detailed method. With their skilled hands, like painters, workers transform nail, awl, and chisel into brushes creating their own products.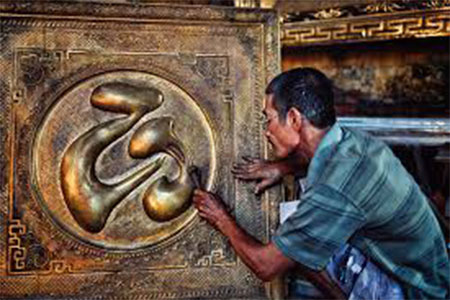 Dong Xam products include 3 categories: Worship, jewelry, and crafts. Each type has many different styles. Not merely made of silver or copper, many art items like combs, chopsticks, cups … also are combined with other materials such as ivory, pottery, porcelain, glass, and copper and silver are only used as decoration for the products.
Like other villages, Dong Xam also encountered the threats of disappearance. Dong Xam craftsmen are skilled, hardworking, diligent, and inquisitive, thus, products become more and more sophisticated and attractive. And soon, it became the favorite of many people, especially the rich. From Le – Trinh dynasty to Nguyen dynasty, many workers were called to the capital to make many items carved with gold and silver such as worship things, royal living appliances, and utensils for the courtiers in the court. Dong Xam had a difficult time in the war against France (1945- 1954) and the subsidy period (1955- 1985), the village barely developed. After 1986, silver carving gradually recovered and developed.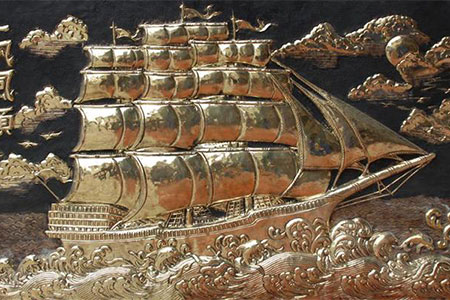 Discover the village, you not only see the masterpieces here, but also can feel the atmosphere of a village with rice field and the normal lifestyle of Vietnamese people in a traditional village. Join and enjoy the village tour with your friends or family.