If guests want to go many places during the trips in and around Hanoi, want to know more about the cultural life of the Vietnamese people, adding to your trips some knowledge about traditional villages is an interesting idea. Kim Son sedge weaving craft village is an attractive, strange and unique place for visitors to come.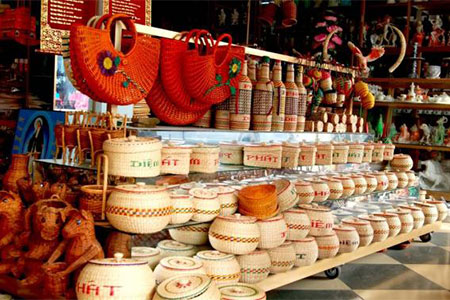 Kim Son village is located in Kim Son district, Ninh Binh province. When you arrive here, you will be surprised by seeing plenty of bags, hats, boxes, shoes, cart, vases, and flowers made of sedge. This traditional craft has not had ancient roots as some old crafts such as silk weaving, embroidery, stone carving, and carpentry in other provinces, but it has undergone many generations of people. Sedges have been in Kim Son nearly two centuries. In ancient times, undergoing through a hundred years, people of Kim Son has created vast mudflats to grow sedges. Long strands of sedge seem to have no value, but only through the skillful hands and the creativity of the people here have created a unique, strange and valuable product that other places do not have. This thing makes the village become more attractive.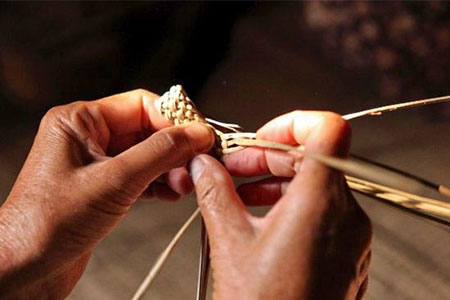 All people of Kim Son village are full of the qualities true craftsmen people who are skillful, sensitive and passionate with the craft. Because they have lived in the cradle of sedge craft village from hundreds of years ago. And, they have made their products famous in many places both domestically and internationally. That is the reason why they always feel proud of their land and the value of this craft that ancestors left for them.
However, to get the reputation of Kim Son sedge weaving village as today requires an extremely strenuous process. This is a process that is meticulous and accurate right from the time of planting, harvesting, selecting, cutting, drying and drying sedges until the last step is to sew and finish products. All are done perfectly to ensure the quality of the products.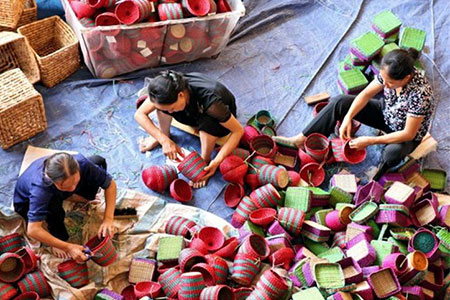 Experienced many ups and downs of history, Kim Son sedge weaving village increasingly expresses their position, survives and develops until these days. The product here is extremely diverse in design and color, and patterns are very eye-catching. This place is the best choice to buy some products to use as well as some gifts for your friends or families. This is a way that you keep good memories of your trips.