Spring, summer, autumn and winter, all seasons are going through with brilliant flowers. If visitors have the opportunity to visit Hanoi in the flowering season, take the time to come up with beautiful gardens, photography places with beautiful flowers in Hanoi below.
Nhat Tan Flower Village
Located at the foot of the Long Bien Bridge, Nhat Tan flower village is a beautiful photography spot in Hanoi because here various kinds of flowers bloom in all seasons. If the spring has cherry blossoms, summer has lilies, and autumn has sunflowers, in winter, Nhat Tan flower village is blooming with white colors of chrysanthemums robins.
Entrance fee in the flower garden is in the range of 30 to 50 thousand VND / person, depending on the garden.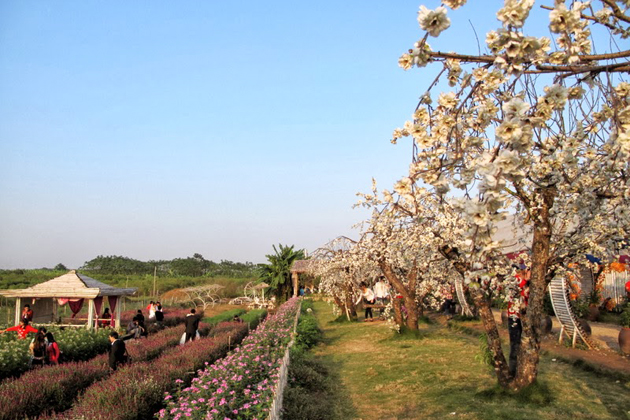 Flower Valley in West Lake Area
Flower valley in West Lake area plants a variety of special flowers such as sunflowers, pansies … ensure that you will have beautiful photos next to sparkling flowers. Besides, there are also many beautiful backgrounds like the windmill, the flower houses… In addition, the stops are designed nicely to stay as well as to shoot photos.
The entrance fee of the flower valley is 50 thousand VND/ children, 80 thousand VND/ adults.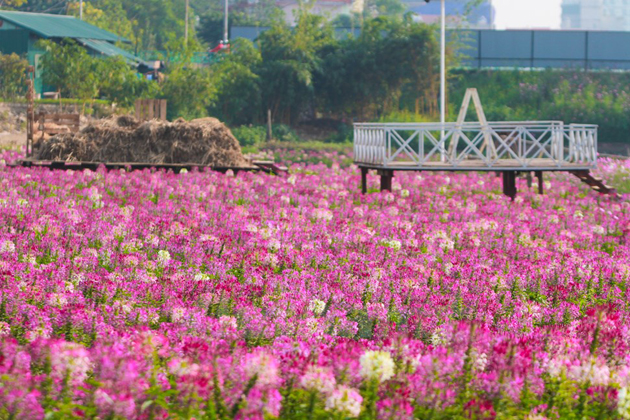 Quang Ba Flower Market
In the Tet holiday, Quang Ba flower market sells all kinds of flowers in springtime like peach flowers, apricot, and so on. To visit Quang Ba flower market, visitors just pass the Nhat Tan peach garden just a little further to see Quang Ba flower market on the right. The wholesale market starts from early morning, from 1-2 am.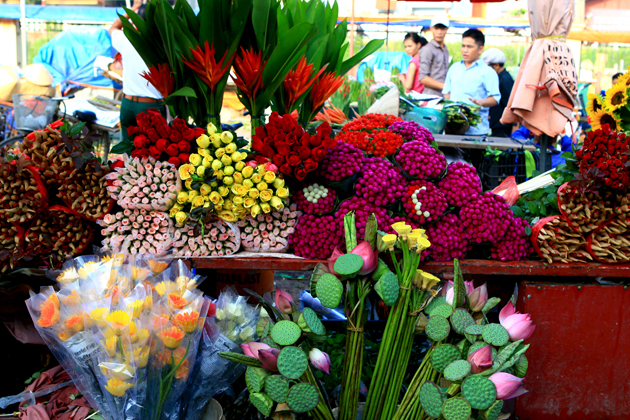 Tay Tuu Flower Village
If visitors want to admire larger gardens you can travel to Tay Tuu flower village. There are many types of flowers that visitors can freely watch and take photos to record the beautiful moments in this place. Tay Tuu Village belongs to North Tu Liem district, about 20km from the center of the city.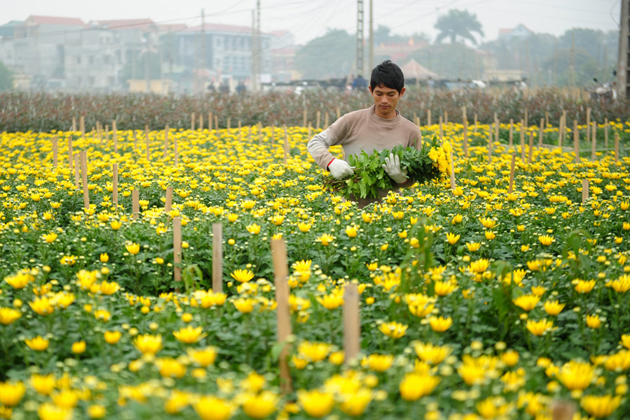 Long Bien Flower Grassland
There is no need to pass nearly 50km to travel to Ba Vi or thousands of kilometers to the Central Highlands, the young people in the capital can be completely immersed in the brilliant colors of tree marigold in Long Bien flower grassland. This flower garden is located at the end of Thach Cau of Long Bien district. Yellow of flowers stands out on green color of tree marigold leaves which is an ideal background for cheerful and romantic pictures. Moreover, when you come to this flowers steppe, you also have a chance to enjoy many different flowers blooming.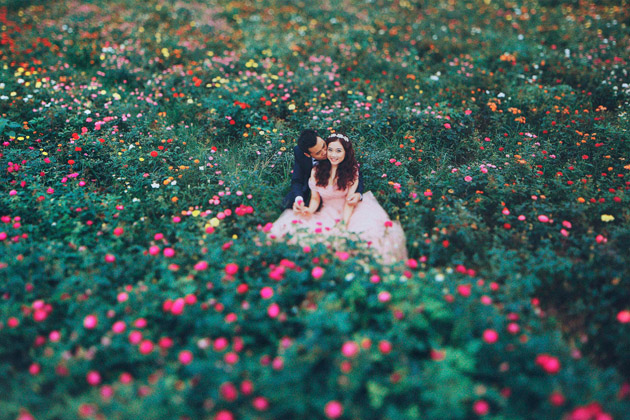 Reed Flowers in Linh Dam Urban Area
In the crowded urban area of Linh Dam appears a lot of reeds growing on the ground. In winter days, reed flowers bloom which makes space in this area more beautiful and poetic. Visitors can go with family and friends to take pictures here.