Eating is not only to satisfy basic needs, the indispensable needs of human, but also it is upgraded into food culture and culinary arts. Hanoi has been famous for the gastronomy for a long time due to the diverse and unique cuisine. In Hanoi, there is a wide range of cooking classes for tourists to participate in. Therefore, when traveling to Hanoi, travelers can both enjoy the delicious food and learn the way to do it so that they can understand and learn about the culture of Vietnamese people through the culinary art.
1. Hanoi Cooking Centre
Located at No 44 Chau Long Street of Ba Dinh District, Hanoi Cooking Centre is a good place for visitors to take part in a Vietnamese cooking class. The cooking classes here are held daily with various themes that include the typical dishes of not only Hanoi but also the whole country from the north to the south such as spring rolls, some street food, some dishes of the coastal region. In addition, the center also has the class for western food so that travelers can feel comfortable to join any class in the center.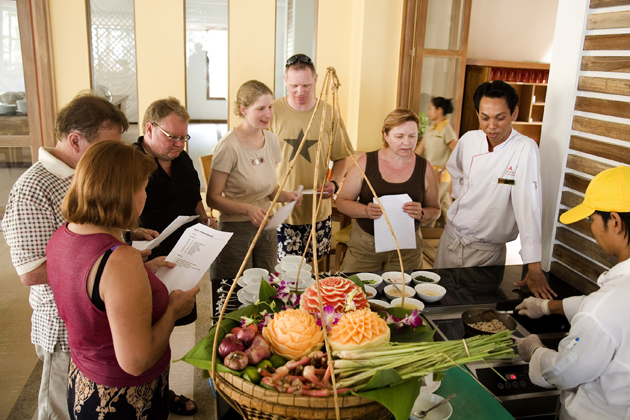 2. Hidden Hanoi Restaurant
At No 147 Nghi Tam Street of Tay Ho District, Hidden Hanoi Restaurant often organizes the cooking course for visitors to join. At this restaurant, you will have a chance to cook the Vietnamese food with the restaurant' s recipe by the most available materials that you can find in many places around Asia so that you can do it by yourself at home for your friends and family. Moreover, you can understand the Vietnamese culture through the stories of introducers about food ingredients of Vietnamese people such as rice, spices.
3. Old Hanoi Restaurant
The restaurant situated at No 4 Ton That Thiep Street of Ba Dinh District holds the cooking class on every morning and afternoon. Here, you can learn about the culinary art of Vietnamese people through all steps from selecting to cooking stage. Explore the local market and gain insight into the art of cooking through the introduction of the guide will be an exciting and unforgettable experience for your trip to Hanoi.
4. Koto Restaurant
Another famous restaurant that organizes cooking classes is Koto Restaurant at No 59 Van Mieu Street of Dong Da District, near one of the most famous attractions in Hanoi – the Temple of Literature. This is an ideal place to learn skills and knowledge about Vietnamese art of cuisine from the professional chefs. That is also a meaningful opportunity for visitors to help the local people because this restaurant is the place for disadvantaged youth to develop.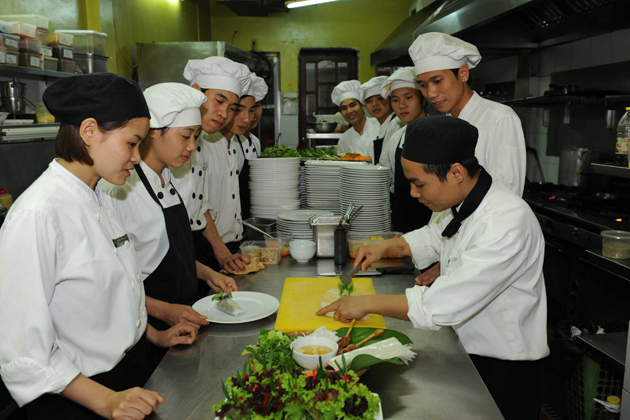 5. Hoa Sua School
Hoa Sua School is also a vocational place for disadvantaged people on Linh Nam Street of Hoang Mai District. Take a chance to help local people is a good manner of tourists by taking part in cooking classes here. You will learn about the culinary art of Vietnamese gastronomy through the meaning of using ingredients and their combination. You also have a chance to discover the local market and understand more about the lifestyle of people in Hanoi in particular and in Vietnam in general.
6. Highway4 Restaurant
Located on Au Co Street of Tay Ho District, Highway4 Restaurant is not a bad choice for you to participate in a traditional cooking class. Before starting the cooking course, you will join a cyclo tour to a local market to select the best materials for your dishes and learn the way local people use their ingredients in the food processing so that you can understand a part of the culinary art of Vietnamese people.