When mentioning to Hanoi, Hanoi Old Quarter perhaps is not an unfamiliar name for anyone who visits Hanoi. With a total area of about 100 hectares, the Old Quarter of Hanoi was formed from the 11th century of Ly – Tran dynasty and has nearly a thousand years of history of a bustling urban area. It is a location of handicraft activities and all trade, forming the characteristic towns that bring distinct traditions of urban residents and the capital. Artisans from craft villages around the ancient Thang Long capital gathered here, focused on each region and specialized in making their professional jobs that made the town more and more developed. And, traded products have become street names, with the word "Hàng" in front meaning that they focus on dealing a kind of good such as Hang Gao (rice), Hang Duong (sugar) , Hang Muoi (salt)… Therefore people often call Hanoi 36 streets with the meaning of streets that locate people doing the same craft, sell the same items. The name "Hanoi – 36 streets" is just symbolic. Until Le dynasty, it gradually had some Chinese traders, established some towns of Chinese people. At that time, there were some lakes in the middle of Old Quarter and Thai Cuc lake is the largest. By the end of the 19th century, these lakes were filled, but still left traces through places: Ha Khau, Giang Khau, Cau Go, and Cau Dong. In the French colonial period, Hanoi old quarter was expanded, and Indian and French dealers came here to trade, which formed the cultural diversity and ethnicity. Dong Xuan market also was found at that time.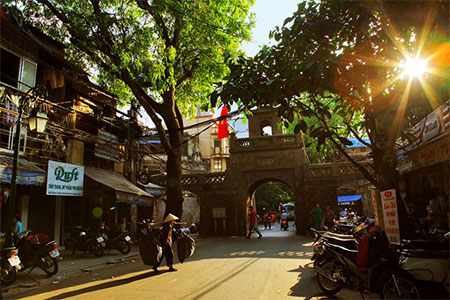 Nowadays, through ups and downs of history, Hanoi Old Quarter is still the busiest business district of Hanoi. Life in the old quarter of Hanoi inevitably gradually changed over time but retains the manners of small business, in general. Now, some streets in the Old Quarter of Hanoi still maintains traditional products such as Hang Ma, Hang Tre, Thiec … And, although some streets do not hold its traditional products, but still sell the same goods. For example, Hang Quat Street sells worshiping items, Hang Buom sells confectionery, and Ma May Street specializes in travel services.
Another interesting thing of the old quarter of Hanoi is ancient architecture of houses with tubular shape, inclined roofs, and shop-houses in the facades. These houses were built in between 18th and 19th century, small but still have areas of goods selling, worshipping, guests welcoming, sleeping and so on. Tourists who are the most fastidious still intrigued by the cultural values contained in about 100 old structures including houses, temples, pagodas and assembly halls. Typically in these historical and cultural vestiges, Bach Ma temple is considered one of the four towns of Thang Long citadel.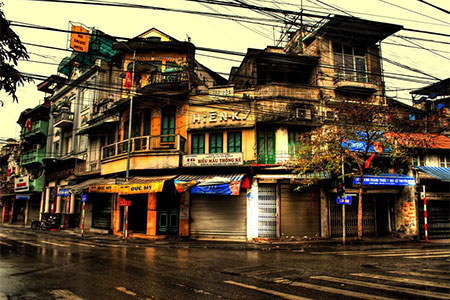 Remarkably, the old quarter at night becomes very lively, especially on the weekends. Just walking on the walking route, you will see numerous colors of life such as families bringing their young children to lay, groups of dance competitions, or a large number of travelers and citizens walking around and talking together. A pleasure not to be missed is the cuisine of Hanoi old quarter with abundant types of dining, and shops are found everywhere, from the sidewalk to the luxurious form. Toad cafes, beer sidewalk, the hot pot restaurants, grilled food, noodles, noodle soup, and snacks mixed together, spilling down to the street.
Modern and ancient beauty is combined together that creates an unforgettable impression in the mind of tourists. Explore Hanoi Old Quarter, you not only see the cultural and architectural sites, but also enjoy the excellent and impressive culinary as well as feel the rhythm of life, both in the past and present.