Vietnam Museum of Ethnology is seen as the most attractive and interesting museum in Vietnam from the first day of establishment. The museum is famous for the diversity of the cultural and social knowledge both in Vietnam and around the world.
The museum has the square of more than 4 hectares and it was established from 1987 to 1997. It consists of three main exhibition areas for both indoors and outdoors section: Viet Nam's Ethnic People, Traditional Architectural Garden, and Southeast Asian Culture and cultures of some ethnic groups in the world.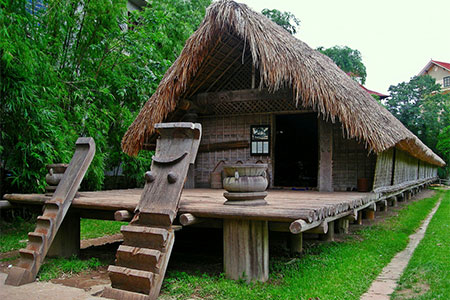 Vietnam's Ethnic People area is a place to display the customs and culture of 54 ethnic groups through artifacts, films, ethnographic images along with vibrant regeneration space to display typical actions of each ethnic group. With 2500 meters square, this area was designed by Ha Duc Thinh architect (Tay ethnic group) and a French architect. All the objects are displayed on two floors and divided into 9 titles: general introduction, and 8 language groups: Viet – Muong, Hmong – Yao, Thai – Kadai, Cham – Hoa – Khmer, Austronesien, Sino – Tibetan, and Mon – Khmer.
Open – air exhibition area displays houses of various ethnic groups. They are built by artisans from the villages where these houses are traditionally designed and built. Guests can admire the architecture of different ethnic groups in Vietnam, can see the distinctness among houses because they are placed in separated areas throughout the country from the highlands to plains. Moreover, when visiting this area, visitors can have an opportunity to watch water puppet show organized on every Saturday and Sunday.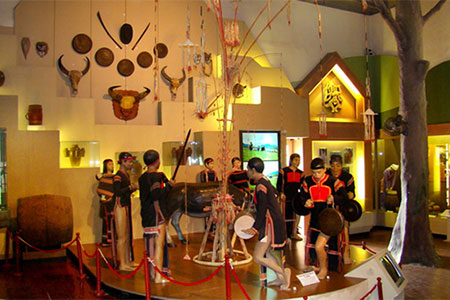 The third area exhibits the culture outside Vietnam, Southeast Asian culture, Indonesian glass paintings, a glimpse of Asia and around the World. However, because of the limitation of artifacts and documents, the information Asia and around the world is still being collected. Southeast Asian galleries are devoted to introduce an overview picture of rich culture of the peoples of Southeast Asia under 5 themes: textiles, daily life, social life, the performing art and religions.
If you ever thought that museum contains much knowledge but quite boring you must change your opinion when you come to Vietnam museum of ethnology. It is where introduced, honor the most solemn and detailed identities, customs and culture of various ethnic groups throughout Vietnam. Only through books, you cannot understand all the knowledge of the peoples of many regions of Vietnam. But with the Museum of Ethnology, from the presentation, layout to content, they are expressed in very scientific and logical way, making it easy for viewers to grasp and penetrate towards the colorful culture of various ethnic groups. A lot of visitors are excited to the way of presenting the culture and customs of every ethnic groups.