If visitors come to Hanoi, you will understand that the rhythm of life here is always flowing and do not stop. Night in the capital is not too noisy and ostentatious but still lively and attractive with lots of different pleasures. Especially, night dining is an attractive and typical features of Hanoi. It is not simply a normal diet, night eating in Hanoi is the discovery, experience as well as the culture of the capital Hanoi. It is hard to tell the thousand dishes of night cuisine here, from kinds of nosh such as baked spring rolls, boiled snails to the dishes that fill stomach as rice noodles, soup that are not hard to find on the street corner, a small alley. See how Hanoi night dining attractive the visitors!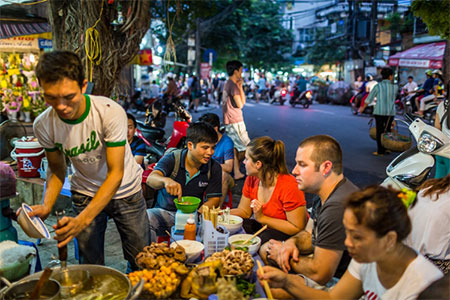 Hanoi is not only noisy and boisterous with a lot of activities during the day but also has its own excitement and density with shops and fascinating night dishes at night. It does not just stop at mere dietary needs, night food has become a habit of Hanoi or even a unique culinary culture.
Now, people eat at night not only to fulfill the needs of the stomach but also to meet friends to confide after stressful working hours or time for the family to gather. Every person has their own purpose, therefore, the stores at night are always crowded and everyone talks to each other. Hanoi at night suddenly changes, no bustling, noisy atmosphere like during the day, but deep and bustle space in a specific way that nowhere has. To enjoy dishes at night in Hanoi, the most appropriate place is the Old Quarter.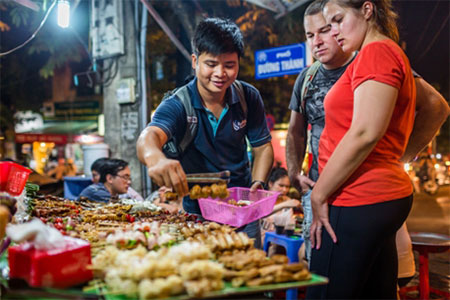 Hanoi Old Quarter area is crowded by the corners, like a maze that stimulates discovery of visitors. And, go into these corners, where the light is on from dusk until dawn, they found the sweet taste of life. Contributing to a vibrant culinary of Hanoi is the existence of thousands of dishes, but perhaps the most common is Pho – rice noodles. Pho is the most popular late-night dish but very few stores have tasty rice noodles. If you want to eat a delicious bowl of Pho, you should go to the stores in the Old Quarter area. Referring to dish the night, it cannot help mentioning to the steamed sticky rice: shiny steamed sticky rice with corn or steamed sticky rice with chicken with fragrant onion, tasty meat, mushrooms and flavor of green beans and spicy pepper. That was enough to create the color of the night in Hanoi.
Porridge is also a dish that not to be missed when referring to Hanoi night meals. Hanoi night porridge has special exciting feature. Hanoi night porridge is not only delicious by the sweetness of the meat, of the materials used to cook porridge, but also by the accompanying spices. They are the aroma of onions, perilla; the spicy taste of garlic, pepper, and chili. Bowls of porridge at night is enough for the stomach to wait until the next morning and attractive enough to satisfy all customers. Besides the familiar dishes, because of increase in demand, night dishes are varied each day such as barbecue, boiled dishes, and hot pot dishes. Every dish carries specific flavor to suit each different season that makes a culinary picture of the capital Hanoi becomes vivid and more colorful.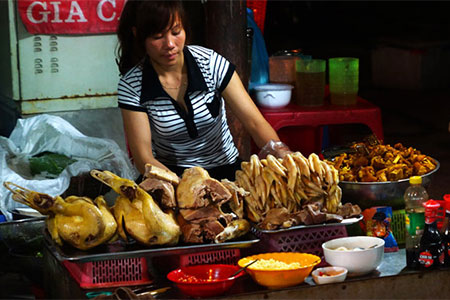 Travel to Hanoi, next to the scenic beauty and many others, you should not skip colorful culinary world and the night dishes are also an indispensable part. There are a lot of dishes that you have caught somewhere in all the country, but when enjoying the typical dishes cooked by the talented hands of Hanoi people, the dishes seem to have different taste that is both strange and familiar. Night cuisine of small alleys in Hanoi also contributes to the culinary diversity and vitality of Vietnamese capital.