Hanoi is a thousand-years-old urban, was the capital of many dynasties, and where Ly Nam De chose to be the capital in 542. By 1010 with the "Edict on the Transfer of the Capital", Ly Cong Uan officially set the name Thang Long to assert the advantages of this land. Until now, Thang Long – Hanoi is still the convergence of the four corners, where crystallizes the essence of the country and is a place to exchange culture with friends from all over the world. Since ancient times and until now, cooking and enjoying food is an art of Hanoi, and became a unique culture fascinating anyone from the moment they come here. Hanoi cuisine carries distinctions, casual and simple but elegant and sophisticated that not only are reflected in the way of processing, enjoying but also in the hearts of people who cook. Especially, the addresses that have delicacies of this land do not stay in luxurious hotels and restaurants but they are right on the sidewalk of the small alleys and small towns. This local eating habit is seen as a rarely unique culture leaving a lasting impression in the heart of every people in Hanoi and visitors when arriving here.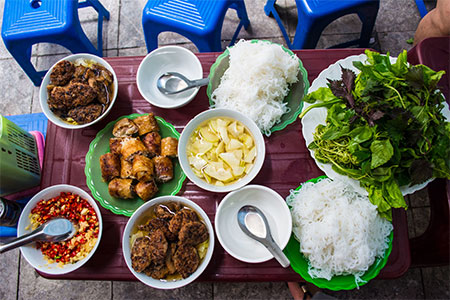 Over many centuries of being a longstanding center of culture, economics, and politics, Hanoi accumulates the humanistic elements of many regions of the nation. The cuisine of Hanoi contains many regional tastes including salty, sweet, fatty, spicy, and sour. Hanoi's people like all flavors even though their primary taste is less bitter, less sour, and less sweet unlike the Central which is spicy, slightly sweet, and slightly salty as well as the Southerners which are sour, a lot spicy and sweet. In Hanoi, dining has been scientific for a long time showing that eating always is calculated to be beneficial to health, to help people have the best adaptation to the environment, and be suitable to natural conditions, to wet rice civilization of the Red River, and to the terrain of the northern delta region. Sometimes, eating is a cure or is incorporated with the cure. The food is also changed to suit the climate and weather of the four seasons.
To enjoy the most standard cuisine in Vietnam, Hanoi is where visitors cannot ignore. Old Quarter is home to a lot of traditional dishes. Squatting on low stools in sidewalks and eating Pho (rice noodles soup) with the sweet broth, you will feel the simple and elegant taste of Hanoi's Pho. Take time to arrive every corner of Old Quarter, you will enjoy all the quintessential Vietnamese cuisine in this place. There are plenty of mobile food stalls on the sidewalk (and beneath the road) of the Old Quarter. Mentioning to delicacies of Hanoi, visitors cannot forget Bun Cha (Kebab rice noodles), this dish is present throughout the streets of the capital with its own taste. Other dishes are Bun Oc (snail rice noodles), Bun Dau (rice noodles with soya cheese) which are delicious and familiar with each people of Hanoi. West Lake shrimp cake is also mentioned as a typical dish of Hanoi's culinary. Walking around Hoan Kiem Lake, you also should not ignore Trang Tien ice-cream that anyone coming here should also taste to enjoy the cool and unique flavor of Hanoi. Cha Ca (grilled fish) La Vong in Hang Can Street (now called Cha Ca Street) is a famous specialty of Hanoi from the late 19th century. It was not only admired by local diners but also well known to foreign customers.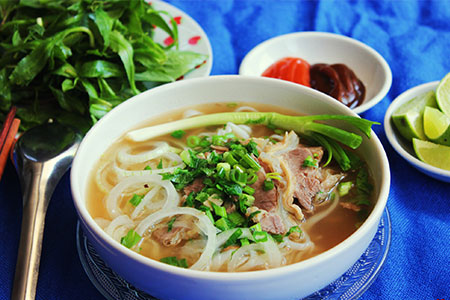 Furthermore, the charm of Hanoi cuisine is also present in every drop of the fragrant sauce, in the hot steamed sticky rice, and in cups of tea with lotus flavor. In every season, Hanoi dishes are rich and carry their unique tastes that are cordial, cozy but sophisticated. In the spring, the weather is cold, wet along with lush things. In that weather, a bowl of snail rice noodles or a bowl of Pho (hot rice noodles soup) with white water, sweet and fragrant flavor attract diners. In the summer, it brings a unique kind of fruit, a raw material for rustic dishes that are cool and extremely easy to eat. Referring to the fall of Hanoi, it is not just the most beautiful season of the year, but also a season of elegant gifts which cannot mention to Com (green rice) of Vong village made from sticky rice. Little green rice is wrapped in fragrant lotus leaves or delicious dishes made from green rice such as green rice cake, steamed sticky green rice. And in the winter, the season of cold air, only simple dishes like baked corn, potatoes also become the culture of Hanoi. Each dish and drink of Hanoi bring their own characteristics that attract the local people and tourists as well.
Come to Hanoi, you will be overwhelmed by the rich local cuisine with the delicious taste of the exotic and fragrant spices. In addition to traditional dishes, you will easily find restaurants with foreign styles such as enjoying sushi in Japanese restaurants, drinking coffee in the French style restaurant, and trying the true Italian food. Hanoi is worthy to be a heaven of a miniature cuisine. The culinary culture of Hanoi keeps the quintessential culture and history in eating, dishes and makes visitors not only can see the meticulousness, skill but also can feel a deep cultural dimension bearing characteristics of a capital land.