Through over 300 years with the ups and downs of history, it seems that the village had been forgotten over time and the pulse of society. However, those who love the village, consider the village worth more than the other luxury materials, they retain the beauty of the village.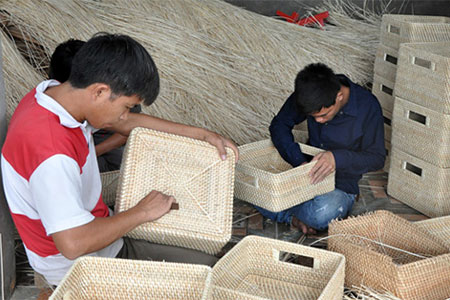 Tang Tien bamboo and rattan craft village belonging Tang Tien commune, Viet Yen district, Bac Giang province, is home to the traditional weaving famous for a long time. The village has established for more than 300 years, about the time under Le dynasty, and has developed strongly. Through the ups and downs of the time, more than 300 years, people here are still faithful to the craft of ancestors. Previously, Tang Tien was an agricultural commune, people mainly worked on the field. Meanwhile, bamboo and rattan were still considered only a secondary job for the people to work when they had free time to earn money. Every family maintains the craft that ancestors left but it is simply a couple of the baskets or fans to sell in the market. Come to Tang Tien, the visitor will find that every house, every family do bamboo and rattan craft. Everyone works skillfully to create baskets and others, therefore, you can see all the art of knitting, ingenious hands of the people here.
For a long time, this peaceful village has been a destination for many traders and foreign tourists who have the interest, love bamboo, rattan and the products made from rattan, an image of Vietnamese people. Thus, rattan products here constantly reach out across the World such as Asia, Europe, America and Africa. Besides a long tradition, beautiful items with various designs and patterns have brought the development of rattan craft.
For the workers, making a product is an art. Tang Tien Bamboo and rattan products require a lots skills, meticulousness, and through many stages of workers. Bamboo trees have to be cut into small segments and then delivered to the hands of workers. They chop the bamboo into small pieces as toothpicks, but 30 to 40 cm in length. It is particularly difficult as they chop by hands. However, they split very quickly and skillfully. Then, each bundle of toothpicks is dried. A particularly important stage is coloring toothpicks, and only one craftsman with a traditional secret can dye to create color, durability and avoid termites. Therefore, it becomes characteristics of Tang Tien. To create durable and beautiful products, workers weave each small toothpicks with each other to create blinds with different colors of threads in combination with the color of toothpicks that make up the multi-color, beautiful and durable products.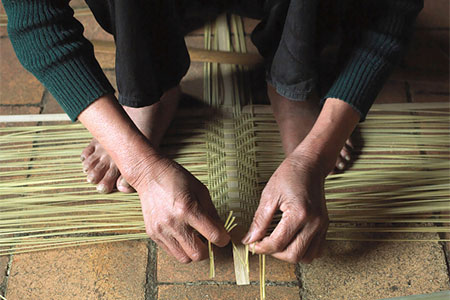 Bamboo and products made from bamboo have long been ingrained in the lives of Vietnamese people. Most provinces in the country have the abundant supply source of rattan and bamboo. And, Tang Tien bamboo and rattan craft is becoming typical for the Vietnamese countryside in general and the other particular craft villages in particular.
Visit Tang Tien village, visitors will encounter the familiar scene of a craft village. It is the image of people cutting bamboo, clawing spokes or the scene that people are simultaneously conversing with guests and working steadily with their skilled fingers as true artists who create sophisticated products without making any mistakes. Furthermore, visitors will be overwhelmed by the vivid, rich and eye-catching products made from rattan and bamboo such as cushions, pillows, bags, window blinds, tables and chairs, and many others.