Mentioning to Thanh Hoa, Nga Son sedge mats may be the things that many Vietnamese people think about. It is a well-known product of this coastal land that symbolize the happiness of couples. The popular mats have been transmitted through many lives and generations in all parts of the country. Nga Son is the land near the seaside with 8 communes located along the coast. It is a fertile area, in addition to planting mangrove trees, this land can only grow a type of tree, sedge that weaves Nga Son mats – the pride of this countryside.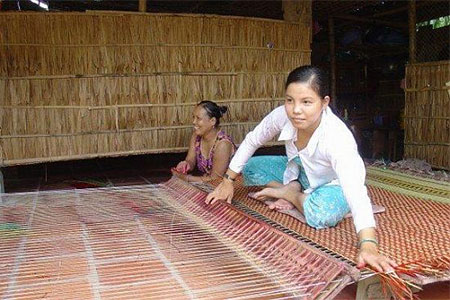 Since ancient times, mats of Nga Son and Kim Son were known by the kings in Thang Long. In the palace of the kings, the lords and the nobles, possessing mats of Nga Son is another compelling evidence for the wealth and luxurious level in the citadel. Seductive beauty of Nga Son mats was the shining and softness. Nga Son's sedge is tiny, long and soft fibers and nowhere has such kind of fibers. Nga Son can make many types of mats. Under the skillful hands of people weaving mats, they have created beautiful sedge mat products which are various in designs, neat, light-weight and easy to fold. Furthermore, lying on these mats is cool, therefore, Nga Son mats are presented from the North to the South. Coming to Nga Son, visitors can admire a vast blue of the sedges hidden in the village, feel the vitality of the countryside with ancestors' craft.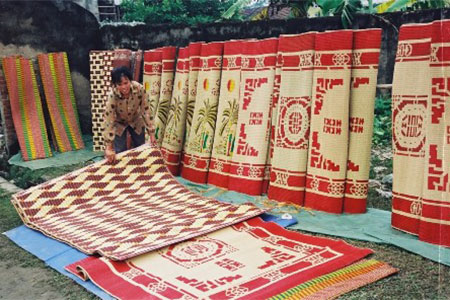 Over more than 150 years of existence with many ups and downs, now, people of Nga Son do not weave only sedge mats, many products from sedge has been created from talented hands and imaginative minds of sedge workers: two fold, three-fold, four-fold mats, fruit basket, cushions, decorative things with elegant and youthful style.
Visit the village, visitors can see the beautiful colors of mats. Mats are placed on everywhere in each house of the village with various colors combined together, blue mixed with yellow and red color of the flowers on the mats, wedding mats and mats in the communal house. Each types of mats has different decorations with distinctive way of mixing colors. Not only seeing, visitors also get the exciting discovery of raw materials of edge, learn about the process and try weaving mats as an artisan of craft village. It will be extremely memorable experience of your trips nearby Hanoi.