Xuan Lai bamboo and rattan village of Gia Binh district, Bac Ninh province (about 30 km from Hanoi) is considered the cradle of bamboo. Here, visitors can see many different products made from bamboo with many beautiful and eye-catching shapes. In particular, visitors can feel surprised by the color of bamboo products, they have shiny black-brown color but not because of paint.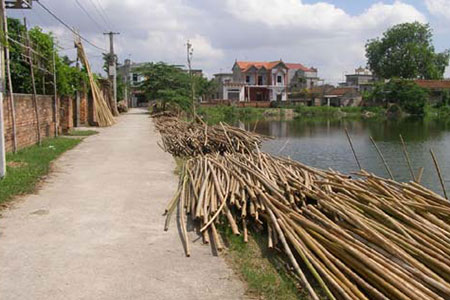 In ancient times, apart from using sedge mats and wooden tables and chairs, Vietnamese people also used bamboo mats, the bamboo furniture, bamboo cabinets, and so on. The furniture and decorative objects made of bamboo are coordinated firmly in both shapes and colors that make these products durable and high usage value by the convenience and comfort of Vietnamese bamboo. Bamboo and rattan craft in Xuan Lai has existed for many generations, and the village is only smoked bamboo village in Vietnam nowadays.
The way to create bamboo products is very special and sophisticated. To get beautiful smoked bamboo products is very complex requiring various steps. First, it must buy raw materials from the northern mountainous provinces. When carrying back, these bamboos are immersed carefully in the water to ensure durability, avoid termites, and increase flexibility. Before picking up, bamboos are straightened, planed, and hewed all knots of bamboo trees and neatly ordered into the kiln. The villagers use straw mixing clay to smoke bamboos. The kiln is covered tightly and has only smoke without fire. Depending on the product, time of smoking is shorter or longer in order to create maroon color or shiny black, then switching to product works. Under the skillful hands of the workers of Xuan Lai, bamboos became vivid products carrying the art and satisfying the requirements of the customers these days. In addition to a long time well-known products such as a narrow bamboo bed, bed, and divan, the village also has added new products such as tables, chairs with modern design; flower pot, carving and scraping folklore paintings, and so on.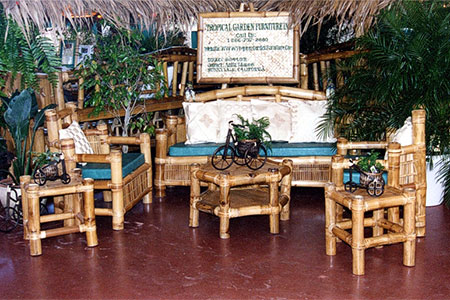 Traveling around the village, visitors can admire the artistic products with the skillful hands of the artisans here. In this place, honest and rustic villagers still preserve and promote the traditional craft obtaining materials from bamboos which were very close and familiar with Vietnamese people to create household products. Xuan Lai Bamboo villages would be an interesting point to visit in your trips surrounding Hanoi.