Nestled near the West Lake, in the north west of Hanoi, Yen Thai or so-called Buoi village is one of famous Dó paper making villages in the capital of Hanoi.
From 15th century, Yen Thai was well-known in ancient Thang Long citadel for making various kinds of paper, often used by royal and Kings such as edict paper (used for royal edicts), order paper (wrote orders from the King).
Yen Thai's paper has been highly appreciated nationwide for its high quality. The traditional poonah paper had to go through a series of complicated steps with complex technics. Skillful and experienced artisans need to be very meticulous in every stage from striping the skin of poonah to washing, pounding and refining it, then packing the paper and taking it to the market. In the past, the paper production was made mainly manual.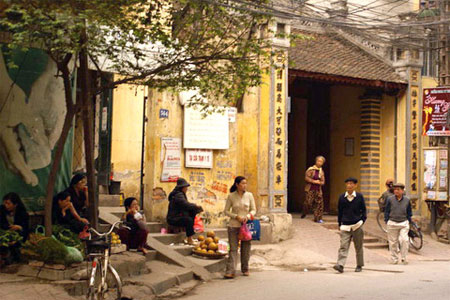 It requires a lot of clean water to produce paper and fire to burn the kiln for boiling paper pulp. Boiling paper were taken place on soil and 5-meter – high kilns along the river bank. The skin of poonah is boiled in bain-marie. When it is well-done, it will be picked up, soaked in lime water and pounded by hand. During the process of soaking paper pulp in the refining tank of Yen Thai Village, they use a kind of fermenter to dissolve the poonah paper.