Vietnamese people welcome the Tet holiday not only to have fun but also to show their respect and towards ancestors, to keep the traditional values for a long time. From 19/1 to 12/2/2017, you can visit Hanoi Old Quarter to experience the Vietnamese Tet Holiday.
From ancient time, the traditional Lunar New Year is an opportunity for families, the grandchildren gathering to welcome the new year. All members of the same family focus on cleaning, decorating their homes, making cakes and buying food and drinks …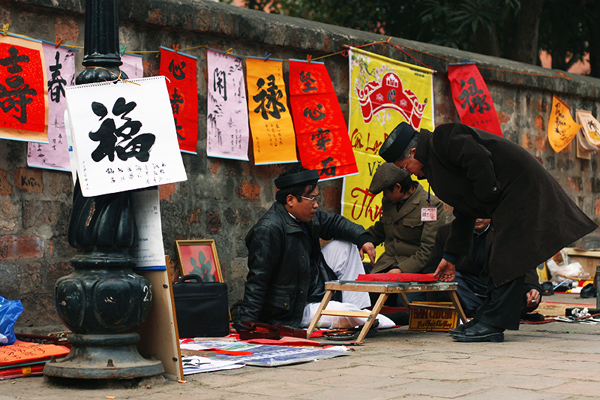 Near the occasion of Tet, in many northern localities appear the annual fair such as the peach flower market, apricot, kumquat market, market of letters, antique markets … to serve the Vietnamese hobby during Tet holiday. The handmade products of artisans from all the suburban areas in the north are delivered to Hanoi such as folk paintings, flowers, bonsai …
In Hanoi, spring flower market is open on Hang Luoc street. Nhat Tan peach, Quang Ba kumquat brought down are brilliantly blooming. Hanoi people often buy a large and beautiful kumquat tree and place at the main room. On the yard, in the skylights, people place a large peach branch and keep it until the fifteenth of January.
With reminiscent activities of Vietnamese Tet, visitors will have the opportunity to understand more about Vietnamese culture.
– Exhibition of 3 types of folk paintings including Hang Trong, Kim Hoang, Dong Ho in Kim Ngan Communal House at 42-44 Hang Bac street.
The main content is introducing and performing three types of folk paintings: Hang Trong – Hanoi, Kim Hoang – Hoai Duc – Hanoi, Dong Ho – Thuan Thanh – Bac Ninh. Here, visitors will admire decorations, spatial arrangements of traditional Tet; Vietnamese calligraphy.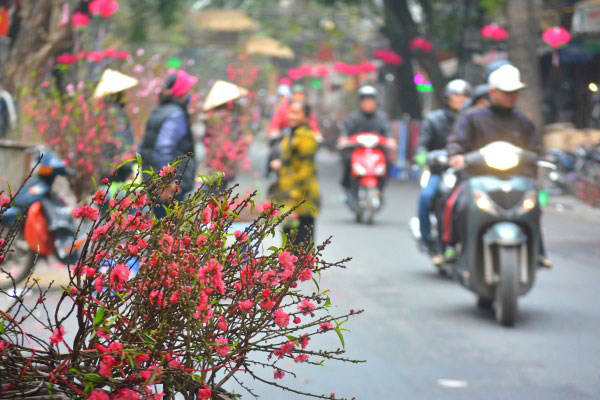 – Introduction of a New Year space in a Hanoi's family.
In the Heritage House at 87 Ma May Street, tourists will visit and arrange the space of Tet holiday of an old Hanoi's family as well as admire the old photographs of Tet holiday in Vietnam.
– Introduction of New Year space in a Northern Delta's family.
At the Cultural Exchange Center in Hanoi Old Quarter, 50 Dao Duy Tu, Hang Buom street, visitors will have the opportunity to visit the arrangements of Tet's space in the traditional house made by Manh Duc artist.
– Demonstration of calligraphy and paintings
At Hanoi Old Quarter Heritage Information Centre, 28 Hang Buom, visitors can watch a slideshow of calligraphy and folk paintings of Tet holiday; Painting with modern materials and the showcase of traditional art products.